Thanks are due to the late Dr. Michael Persinger for his extensive help.
 Persinger's Endorsement.
The God Helmet ®, part of the Shiva Neural Stimulation System.
Phone:(855) 408-7888
________
(Opens in a New Tab)
________
________
________
________
________ Science
________
Online Lecture

(Opens in
a new
Window)
________
________
________
________
________
Using
the God
Helmet

________

________
________
________
________
________
________
________
Hardware

________
________
________
________
________
Software

________
________
________
(Opens in a New Tab)
The Amygdala signal over both sides, followed by  the Hippocampus signal over right side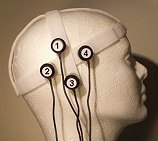 Phase 1 – Amygdala signal over both sides
Phase 2 – Hippocampus signal over right side
This session, like all God Helmet sessions, stimulates the brain with two signals, presented one after the other.
In the first phase, the signal taken from the amygdala is applied to both temporal lobes, and in the second phase the signal taken from the hippocampus is applied to the right temporal lobe.
The second phase of the session is where the intended effects should appear.
These include (but are not limited to) deep calm, inner images, and possibly a sense of spaciousness.
---
If you experience fear or anxiety during the first phase of the session, use the "abort" button to move on to its second phase.
You may experience irritability or impatience during the first phase of the session. This is often a sign that the second phase will be especially effective, so don't stop the session, and only use the abort button if these feelings become uncomfortable.
If you experience fear or anxiety in the second phase of the session, stop the session and just don't use it again. This would suggest that activity in the right hippocampus (a structure that feels pleasant to us when its active) is 'spilling over' into the amygdala on the right (a structure that feels unpleasant to us when its active). This, in turn, suggests that the amygdala and the hippocampus on the right have stronger than usual connections, which would also appear as the individual being prone to anxiety.
Although the two signals have been used in other contexts, both in the laboratory and with The Shakti System, their combination in the Shiva Neural System is new, and should be considered a bit experimental. If you aren't comfortable with experimental sessions, don't use this one.
Don't begin with this session if you're prone to anxiety.
This session cannot be run from this online page. It can only be run using the software and hardware for Shiva Neural stimulation software for God Helmet sessions.
♦♦♦
The Shiva Neural Stimulation System is
$649.00  Plus Shipping
(Shipping – $20.00 in the USA & $40.00 for all other countries)
---
In the USA and Canada, you can order by calling 24/7  (Toll-Free)




(855) 408-7888




Read the

Terms and Conditions

before you call.
Legal: God Helmet Stimulation signals are based on the God Helmet signal templates licensed by Stan Koren and Dr. Michael A. Persinger.
The Shiva System and (it's sibling technology), the God Helmet does not prevent, diagnose or treat any medical disorders.
________
Gaia.com article on the God Helmet.

________
Review article by Dr. Michael Persinger:
Experimental simulation of the God Experience using the God Helmet

________
.
.
.