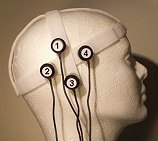 June 2015
God Helmet Experiment Replicated by Independent Researchers (News Story).
---
December 2015
Dr. M.A. Persinger releases a series of ten blogs replying to his critics.
These cover a range of topics including replication, whether his work is based on epilepsy, the god helmet's magnetic field strengths, and other themes.
---
March 2016
Persinger Publishes a comprehensive reply to a critical article: "Neuroscience for the Soul".
(Older Story – 2012)  A variant of the God Helmet was used to elicit an out-of-body experience in under six minutes
---
August 2018
Dr. Michael Persinger, co-inventor of the God Helmet, passed away.  He is survived by Stan Koren, the other co-inventor of the God Helmet, his family, many friends and the L.U. Neuroscience laboratory.  His work will go on.
---
March 2019
A reply to the 'fake' or 'placebo' God helmet experiment was published online.  As it happens, the placebo helmet had about the same results as Dr. Persinger's control (placebo) subjects, but fell far short of Persinger's results with actual magnetic signals.   The Dutch study reported 5.6% of subjects sensed a presence, while Persinger reports 80% of his subjects did so (11 times higher than the Dutch study).  In addition, the claim that the helmet used in the Dutch study was just a placebo wasn't true.  They used auditory stimulation (white noise),  known to encourage auditory hallucinations, confusing their results. 
---
March 2019
A new study confirmed and replicated a few of Dr. Persinger's God Helmet results, most importantly, that the human brain responds to moving weak magnetic fields.  Like Dr. Persinger, the researchers used silence and a Faraday cage. It also confirms that the brain responds to the earth's magnetic field.
Reference:   Wang, C.X., (et al.)  "Transduction of the Geomagnetic Field as Evidenced from Alpha-band Activity in the Human Brain."  eNeuro 18 March 2019, ENEURO.0483-18.2019
---
October, 2019
New book published: "The God Helmet Experiments: The Science that found God in the Human Brain."  It covers theory, some experiments, and some debate. 
---
November, 2019
♦♦♦
The Shiva Neural Stimulation System is
$649.00  Plus Shipping
(Shipping – $20.00 in the USA & $40.00 for all other countries)
---
In the USA and Canada, you can order by calling 24/7  (Toll-Free)




(855) 408-7888




Read the

Terms and Conditions

before you call.
Legal: God Helmet Stimulation signals are based on the God Helmet signal templates licensed by Stan Koren and Dr. Michael A. Persinger.
The Shiva System and (it's sibling technology), the God Helmet does not prevent, diagnose or treat any medical disorders.
________
Gaia.com article on the God Helmet.

________
Review article by Dr. Michael Persinger:
Experimental simulation of the God Experience using the God Helmet

________
.
.
.