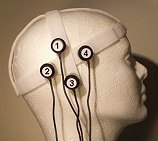 1) Install the software.
2) Connect the USB hardware to your PC computer.
3) Put the coils on the headset (as shown).
4) Align the coils to the audio channels.
The Shiva God Helmet uses four identical USB sound devices, and you must click to assign each one to the audio channels. You'll need a pair of ordinary stereo headphones. Then, you listen to each channel, and plug in the corresponding coil(s). Where you hear a voice saying "One", you plug in the coil(s) marked "1".
Where you hear a voice saying "Two", you plug in the coil(s) marked "2" …
… and the same for other channels. There are eight channels altogether.

It's easy, and it gets easier if you're not in a rush.
---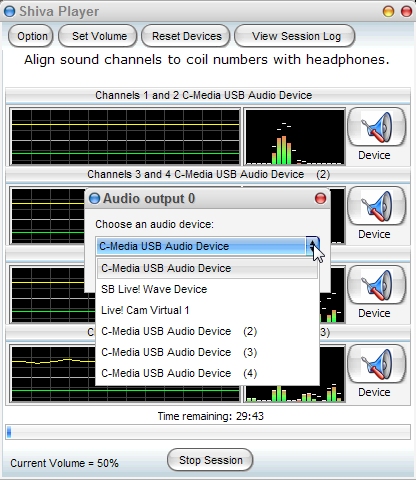 ♦♦♦
The Shiva Neural Stimulation System is
$649.00  Plus Shipping
(Shipping – $20.00 in the USA & $40.00 for all other countries)
---
In the USA and Canada, you can order by calling 24/7  (Toll-Free)




(855) 408-7888




Read the

Terms and Conditions

before you call.
Legal: God Helmet Stimulation signals are based on the God Helmet signal templates licensed by Stan Koren and Dr. Michael A. Persinger.
The Shiva System and (it's sibling technology), the God Helmet does not prevent, diagnose or treat any medical disorders.
________
Gaia.com article on the God Helmet.

________
Review article by Dr. Michael Persinger:
Experimental simulation of the God Experience using the God Helmet

________
.
.
.