First phase 1 – "Chirp" signal over both sides
Second phase – Amygdala signal over left side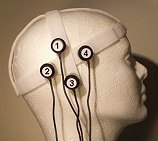 This session, like all "God Helmet Technology" sessions, stimulates the brain with two signals, presented one after the other.
In the first phase, a "Chirp" signal is applied to both temporal lobes, and in the second phase the signal taken from the amygdala is applied to the left temporal lobe.
The 'chirp' signal is used to activate the temporal lobes overall, and the amygdala signal is used to direct the activity into the amygdala on the left, a structure with positive emotional functions.
The second phase of the session is where the intended effects should appear.
These may include (but are not limited to) a sense of a presence (or a non-physical being), elation, joy, inner imagery, and feelings of love and/or affection.
If you experience anger during or after the session, don't use it again. This will suggest that the left amygdala is more sensitive to anger than to spiritual phenomena.
Although the two signals have been used with The Shakti System, their combination in Shiva neural technology is new, and should be considered experimental. If you are not comfortable with experimental sessions, do not use this one.
If you are prone to anger, do not begin with this session.
These links are not active, but this is what you'll see in the software:
Run 60 Minute Modulated 40 hertz 'chirp' signal over both sides followed by amygdala over the left (each phase is 30 minutes).
Run 40 Minute Modulated 40 hertz 'chirp' signal over both sides followed by amygdala over the left (each phase is 20 minutes).
♦♦♦
The Shiva Neural Stimulation System is
$649.00  Plus Shipping
(Shipping – $20.00 in the USA & $40.00 for all other countries)
---
In the USA and Canada, you can order by calling 24/7  (Toll-Free)
(855) 408-7888
Read the Terms and Conditions before you call.
Legal: God Helmet Stimulation signals are based on the God Helmet signal templates licensed by Stan Koren and Dr. Michael A. Persinger.
The Shiva System and (it's sibling technology), the God Helmet does not prevent, diagnose or treat any medical disorders.
________
Gaia.com article on the God Helmet.

________
Review article by Dr. Michael Persinger:
Experimental simulation of the God Experience using the God Helmet

________
.
.
.