Measure the Feel of Language.
The Dictionary of Affect in Language has a Spell-Checker
There is a spell checker to check the spelling of the words in your text. Any misspelled words in your text will not match the words in the dictionary, and will appear in the list of words not found in the Dictionary.  Spell-checking will be easier if you check the spelling of your text before you add tags because tags will appear as misspelled words.

You can also save your corrected text to the file you're working on, or save it to a new file.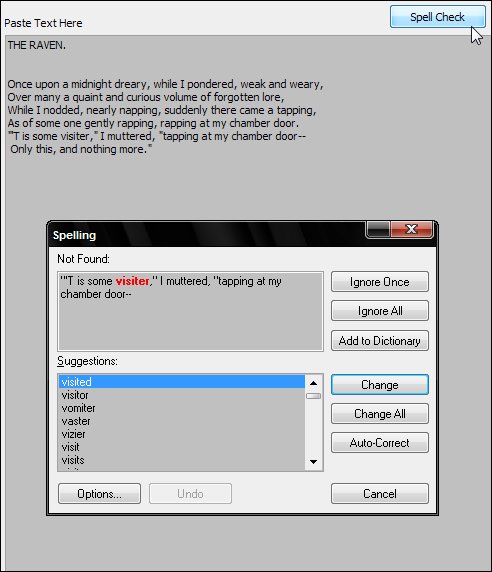 The Spell-Checker. Click to see close-up.
FREEWARE
 
Other Pages On This Site:
NEURAL STIMULATION:


HUMAN EVOLUTION:
Role of Mystics and mysticism in Human Evolution.
The Evolution of Human Belief in God

SPIRITUAL
NEUROSCIENCE
Articles on neurotheology, (or – spirituality and religion meet brain science).

OFF-SITE PAGES (OPEN IN NEW WINDOWS).

Different spiritual practices have different effects on the brain.  

NEAR-DEATH EXPERIENCES:
Near-Death Experience Screensaver (Entering the Light).
Epilepsy And Near-Death Experiences

BRAIN STUFF:

OTHER STUFF:
.
.
.
.
.