The TV program "Strange World" recently aired an episode using The God Helmet.  They had some very striking effects, even though they weren't able to use it under ideal conditions, and they seemed to want to show it in a negative light, in order to connect it to a negative mind control project that was carried out long before the God Helmet was invented.

"I'm wide awake, but I'm having a dream."  This sounds like (very) lucid dreaming, an experience many people want to have and often work hard to achieve.

They did their (filmed) session in the late morning, while the most successful laboratory God Helmet sessions were done between midnight and 4:00 am, when melatonin levels are at their peak.  However, we were able to partly overcome this limitation with a few simple measures, including:  No caffeine before the session, and Christopher Garetano, who received it, was also asked to delay his morning workout until after it was over.  The crew was asked not to bring any problems to him before the session, or do anything that would keep him from being calm and relaxed.
---
The session was done with the field strength set to the maximum (90%).  It followed an "advanced" procedure (available to God Helmet users) that raised the God Helmet's effectiveness by a factor of three, as measured by EEG in one unpublished case history.  Finally, it used 16 coils instead of the more usual eight.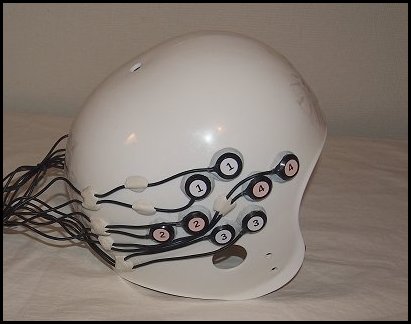 The custom-made God helmet used on the program "Strange world".
Normally, the God Helmet has four magnetic coils on each side.  This one has double that number.

See the trailer.  (May not be a permanent link)
Christopher Garetano's experience of a waking (and so, lucid) dream, was an unusual response, and the difference probably lay in the different time of day when he used it.  Instead of his mind being ready for sleep, as with well-done God Helmet sessions, which are best after the sun has gone down, he was doing it as his day began.  The session was done in a very quiet sound studio, and silence helps the God Helmet to do it's work.
"I felt outside myself."
Weeks before the session, Garetano had filled out a questionnaire about his history of altered-state experiences.  It showed that he had a history of regular Déjà vu experiences (as well as it's opposite, known as "Jamais vu", where things seem dreamlike, alien, or just odd), and also reported that he remembered his dreams often.
"I began to feel transported."
Both Déjà vu and dream imagery rely on one specific brain part, the hippocampus on the right side.  Although we can't be sure, it looks like Mr. Garetano had a hippocampus on the right side that was more active than it is for most people, and his response to the session was very 'hippocampal'.
Perhaps God Helmet research focused on lucid dreaming will one day uncover a procedure for inducing it on demand, in which case, Mr. Garetano's experience will be a contribution to that work.

"I was dreaming while I was awake."  "I was hearing music."  "I started to see swirling colors, cosmic blues and purples."  "I was laughing with people."
Unfortunately, Chris Garetano's experience was marred by his association with the Montauk Project, a legendary "mind control" project, said to have used torture and LSD on teenagers in the early 1980s, years before the God Helmet was invented.  Mr. Garetano found himself thinking about this during his God Helmet session, and this may have influenced it.  This episode of "Strange World" was edited so that images of Mr. Garetano were interspersed with garish pictures of (simulated) Montauk Project victims.

As Garetano removed the helmet, he commented: "very weird", and concluded that the God Helmet is a powerful technology.
"I could feel myself in two places at once."
The comment above tells us that Chris Garetano had an out-of-body experience.  At one point, he could actually see himself sitting in the chair.   The quotations on this page emphasize the phenomena that also happen in religious and mystic experiences.  He also made a few remarks comparing the God Helmet to what-he-speculated might have happened in the Montauk Project.
---
As he entered the room to do his session, one of the crew asked him if he was sure about this, and he answered: "no."  In fact, it was his fourth God Helmet session (all of them guided by and reported to the God Helmet's Tech Support), so he already knew what it was like to use the God Helmet from his own direct experience.  Reality TV may not be scripted, but most such programs add a little drama and hype when they can.

Perhaps, one day, Garetano will do more with the God Helmet, and take it in its natural, spiritual, context, instead of using it to try to investigate a very negative mind control project.  It's even possible that he didn't want to have a positive experience, but, he mentioned "drowning and pain," in a voice over, though he didn't feel it was happening to him, and it's not clear whether he was talking about the Montauk Project, or perhaps a dream.  The goal of his TV program was to investigate a cruel mind manipulation legend, and a positive, uplifting experience (or video editing job) may not have helped him to reach that goal.

For now, we can see that the God Helmet is an effective technology, which brought him an out-of-body experience, a lucid waking dream, and visions of 'cosmic' colors.  If he were using it to look into spirituality instead of a disturbing mind control effort, his experiences might have been much more positive.

"Something wanted me to let go, and I began to drift away.  And –  just like that – I came back."
It's unfortunate that the God Helmet was used in such a negative context, but the core experiences, including out-of-body experiences, lucid dreaming, and eventually, 'letting go', are also features of many mystic experiences.  The God Helmet is designed to elicit such spiritual episodes, in a wholesome and uplifting way.  "Strange World" gave a distorted view of the God Helmet, by using interpreting its experiences in a negative light.

Much of the God Helmet sequence in the program was edited with a jarring, garish, and even violent style, as though the video engineer wanted to make it look as bizarre as possible.  But then, they may have wanted to make it seem strange.  What else could we expect from a program called "Strange World?"
End.
.
.
.
.
.
.
.