The
Shiva Neural Stimulation Software

◊

ONLINE SOFTWARE DEMO

◊ 
C

LICK IMAGES TO VIEW CLOSE-UP.
Not all functions perform online – this demo is here so you can learn how it works.  It can't be used to run actual sessions.

Legal: Shiva signals are based on templates licensed by Stan Koren and Dr. Michael A. Persinger.
Connecting Your Coils
HOME
________
THE SCIENCE
________

________

PSYCHIC SKILLS & ALTERED STATES

ACCESS
SESSIONS

SESSION DESIGN

________

________

ABOUT

Contact Us
(Opens in a new Window)

.
You need to use a pair of headphones and the Shiva software to connect your coils correctly. You run a setup session, which runs all the sound outputs so you can hear which of the channels goes with each number.  You need to listen to the output from each USB device, and plug in the coils marked "1" where you hear a voice saying "one".   Plug in all the other coils the same way.  It usually takes 1 or 2 minutes.

(Click image to see close-up.)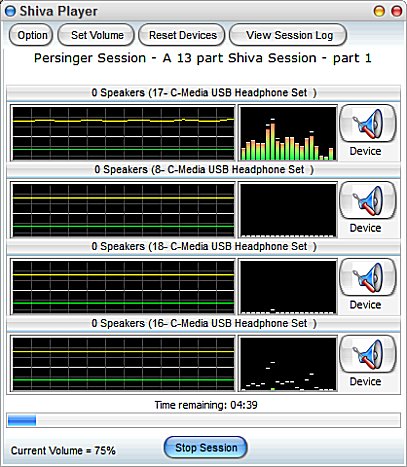 This is the Shiva Player, showing a correct audio setup.  Set up your audio before each session.  In the actual software, you click on each icon on the right, one at a time, and select a USB sound device for each of the four audio signals.  Each sound device has a left and right stereo channel, for a total of eight audio channels.

Channels one and two are produced by the first (top) player, connected to "USB Audio Device."
Channels three and four are produced by the second player, connected to "USB Audio Device (2)"
Channels five and six produced by the third player, connected to "USB device (3)"
Channels seven and eight are produced by the fourth player, connected to "USB device (4)".
Once you have the channels and devices lined up correctly, the next step is to connect your coils.
Setting up your coils means plugging them in matching the labels on the coils with sounds coming from your USB sound devices.
In the software, this page has a Shiva player session with a voice counting from one to eight using the two channels for each of the four USB sound devices. Use stereo headphones to confirm that the signals are played in the correct order. You must do this each time you re-start windows or when you re-connect the Shiva sound devices. The devices are all identical, so windows can forget where each one was when they're removed or when windows re-starts.

In the actual software, there is a link here to launch the Shiva Player with the audio setup  session.
The Shiva System can also be configured for the God Helmet.
The Shiva System is $649.00 plus shipping
Shipping within the USA – $20.00
Shipping to all other countries – $40.00


In the USA, you can order by calling 24/7  (Toll-Free)
1-855-408-7888
Read the Terms and Conditions before you call.

Shiva does not prevent, diagnose or treat any medical disorders.
.
.
.
.
.