The Shiva Neural Stimulation Software
◊ ONLINE SOFTWARE DEMO ◊  CLICK IMAGES TO VIEW CLOSE-UP.
Not all functions perform online – this demo is here so you can learn how it works.  It can't be used to run actual sessions.
Legal: Shiva signals are based on templates licensed by Stan Koren and Dr. Michael A. Persinger.
SETTING YOUR VOLUME

(MAGNETIC FIELD STRENGTH)
HOME
________
THE SCIENCE
________

________

PSYCHIC SKILLS & ALTERED STATES

ACCESS
SESSIONS

SESSION DESIGN

________

________

ABOUT

Contact Us
(Opens in a new Window)

.
Shiva uses four sound devices, and they all are all set to the same level. The tool to do this is the Shiva Volume Control, built into the Shiva software. This page shows you how to use it, even though it's very intuitive.
To start, set your volume to 50%.
You can increase it from session to session until you reach the maximum of 92%.  Higher than that, and you can start to distort the signals, like music being played too loudly.

This illustration shows the Shiva Volume Control.
Click to see it close-up.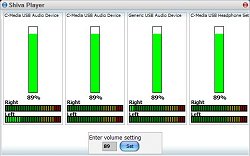 There's only one part of the Shiva Volume control you need to use.  Just enter the percent of the total volume in the volume box, and then click "Set All".


The Shiva System can also be configured for the God Helmet.
The Shiva System is $649.00 plus shipping
Shipping within the USA – $20.00
Shipping to all other countries – $40.00


In the USA, you can order by calling 24/7  (Toll-Free)
1-855-408-7888
Read the Terms and Conditions before you call.

Shiva does not prevent, diagnose or treat any medical disorders.
.
.
.
.
.