The
Shiva Neural Stimulation Software

◊

ONLINE SOFTWARE DEMO

◊ 
C

LICK IMAGES TO VIEW CLOSE-UP.
Not all functions perform online – this demo is here so you can learn how it works.  It can't be used to run actual sessions.

Legal: Shiva signals are based on templates licensed by Stan Koren and Dr. Michael A. Persinger.
Where To Put The Magnetic Coils – The Basics.
HOME
________
THE SCIENCE
________

________

PSYCHIC SKILLS & ALTERED STATES

ACCESS
SESSIONS

SESSION DESIGN

________

________

ABOUT

Contact Us
(Opens in a new Window)

.
The eight pairs of coils are arranged so that there are no coils above the nose and none above the bony ridge at the back of the head. There are no coils directly above the ears. Place the coils evenly around your head.

These illustrations show the standard counterclockwise arrangement.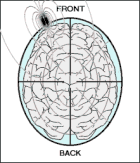 The Shiva System can also be configured for the God Helmet.
The Shiva System is $649.00 plus shipping
Shipping within the USA – $20.00
Shipping to all other countries – $40.00


In the USA, you can order by calling 24/7  (Toll-Free)
1-855-408-7888
Read the Terms and Conditions before you call.

Shiva does not prevent, diagnose or treat any medical disorders.
.
.
.
.
.