Spirituality &

The Brain

(

Home Page

)


Enrich your Spiritual Life with Easy Exercises From Brain Science.
Todd Murphy  (Home Page)

Deja Vu & Other Spiritual Gifts can help you find the spiritual practices that will work for you.  It's a grimoire based on a modern understanding of the brain's role in religious and mystic experience.
"For anyone who is obsessed with exploring the potential of their mind, this book is a treasure-trove of methods to push you on and guide your practice. With a rich array of techniques, and sensible advice on when to try hard and when to 'give in' and let go, this book is a guide for anyone who loves exploring new ways to spiritual practice."

 – Susan Blackmore, author of  "Consciousness: An Introduction" and "The Meme Machine".
It will teach you how to work towards spiritual abilities, like healing hands, 'second sight', talking to animals, and even out-of-body experiences, though not everyone is equally prone to them.   It will tell you what the third eye is, and how to start 'opening' it.  The abilities are actually a lot less magical or 'cosmic' and a lot easier to learn than they seem.  They're a lot simpler when the superstitions are taken off them. They may look profound when they're embedded in metaphysical teachings, but the metaphysics actually makes them harder to work with.  Experienced spiritual workers will also find this to be a treasure trove of effective techniques and common sense ways of connecting to "the magic".

The spirituality in this book is based on brain science, and not any religious or metaphysical tradition.  It often refers to the shamanic and tribal religions of our first human ancestors because they're the spiritual paths our species originally adapted to.
If you sometimes sense beings around you when you're alone, you probably have a knack for prayer.
If you hear music running through your head, you probably have an aptitude for chanting practices, like the Catholic rosary or Hindu mantras.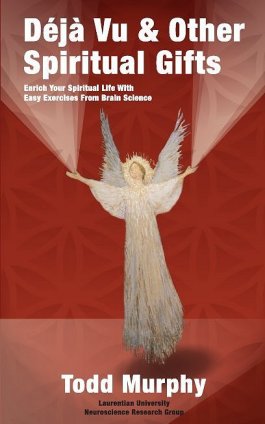 If you sometimes feel like your body moves when you're staying still, you can start learning how to have out-of-body experiences.
Very few of us have all these feelings, but most have at least one of them. In Deja Vu & Other Spiritual Gifts, you'll find ways to use these sensations to help your spiritual life.
Deja Vu & Other Spiritual Gifts will tell you how to begin learning to heal by laying on hands, which may have been the only kind of healing available for the first generations of homo sapiens.  It also offers some techniques from a spiritual healer, who taught them to the author.
This is a book is a book of applied spiritual neuroscience.  It puts scientific discoveries about the brain's role in religious and mystic experiences into practice.
Deja Vu & Other Spiritual Gifts is a guide to the human spiritual landscape, presented with its feet in science, and its head in the stars.