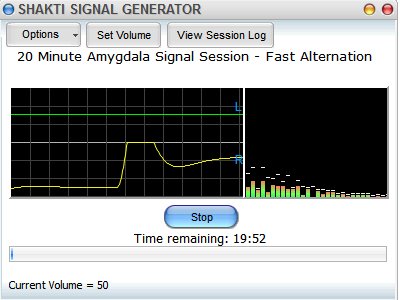 This (left) is the volume setting panel for the Shakti Player. TheShakti software uses it's own specialized Signal Generator (above) to produce the signals.
It has it's own volume setting utility, making it easy to set your volume without having to use the Windows sound panel at all. Shakti will remember your volume level, using it only for Shakti. Your Shakti system's volume level won't affect your music, videos, or youtube experience.
After long testing, a set of rules has appeared that will let technicians set their volume for any sound device, according to gender (men get higher settings than women).
If you use the Shakti USB sound device, you don't need to pay any attention to this chart.
There are many sound cards, and a few of them do not fit the settings shown here, but the overwhelming majority of today's sound devices can be set using the chart shown at the bottom of the volume setting panel.