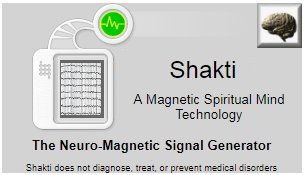 ORDER SHAKTI FOR WINDOWS ONLINE
(International)
The headsets are guaranteed against defects in performance, and may be returned for a replacement.
ALL HEADSETS COME WITH SOFTWARE FOR WINDOWS (XP, 2000, Vista, Windows 8, Windows 8.1, and Windows 10) (No mac version at present).
NOTE: All international shipments are sent by international mail. Prices are in US dollars.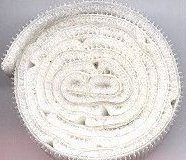 All Units Come with strips of Velcro – one long enough to go around even the biggest heads, and two more for placing the coils over hard-to-reach areas.
Units are handmade.
The two-coil unit is for basic use. It's limited to mono signals.
TWO-COIL HEADSET (MONO)
$85.00 +$9.00 S&H – $94.00 (Total)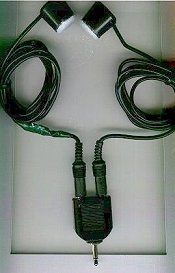 __________
The four-coil unit is suggested for eliciting altered states and gradually making changes in your consciousness through repeated sessions.
Here, the Four-coil headset is being used to apply a different signal over each of the two temporal and frontal lobes. It makes use of the left and right stereo channels to apply different signals to each hemisphere of the brain.
FOUR-COIL (STEREO) HEADSET
$140.00 +$9.00 S&H – $149.00 (Total – $149.00)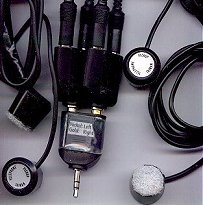 __________
The EIGHT COIL SHAKTI is your best bet if you want to have altered-state experiences during sessions. This is closer to the famous God Helmet developed by Persinger & Koren – 'as seen on TV documentaries' about near-death experiences.  The Shiva God Helmet is the system that replicates the God Helmet.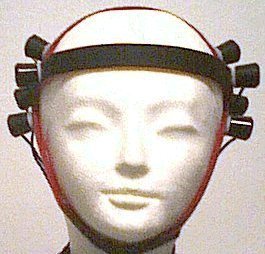 EIGHT COIL HEADSET
WITH SOFTWARE FOR WINDOWS
Here the Eight Coil Headset is being used to apply alternating signals to two planes over both temporal lobes.  More info.
$285.00 +$25.00 S&H  – $310.00 (Total)
__________
 The Shakti Helmet
(The Shakti Helmet has been discontinued in favor of the 8 Coil Shakti, which is more versatile because its coils can be moved and it's larger number of signals)  More info